3-in-1 Binocular Microscope/Macroscope/Field Microscope
M-Depot Item No: YN-02000
Price: $489.95
3-in-1 Design Goes from Traditional Microscope to Field Microscope to Macro Microscope in Seconds
Binocular Head & Tri Pod Base
The Unique Tripod Base May Be Removed & Replaced
Total Magnification: 20X (Macro), 40X, 100X, 400X (w/Standard 10X Eyepiece)
Top (2X Macro) and Bottom (Micro) LED Illumination
4X, 10X, 40XR Micro, & 2X Macro Objectives
Rechargeable Illumination Yields up to 40hrs of Use on 8hr Charge
Energy Efficient, Bright, White Light Emits Virtually No Heat
---
go to product details
Similar Products

Digital Cordless Microscope, 1000x, w/Software
Our Price: $499.95
Binocular Halogen Compound Microscope, Laboratory Features
Our Price: $375.95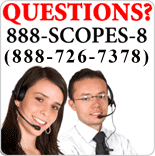 ---
Sales & Customer
Service Assistance:
Monday - Friday
8:00 AM - 5:00 PM PT 1-888-SCOPES-8
(1-888-726-7378)
Email Us
What do our Customers say about us?


3-in-1 Binocular Microscope/Macroscope/Field Microscope
Buy One, Get Three!
With the Swift Optical binocular M3-B, you can observe everything from butterfly wings to plant cell walls at 20 to 400 times their actual size, with remarkably clear images at every magnification level. The versatile M3-B allows everyone - professionals, educators and students - to observe an incredibly wide range of specimens. In traditional microscope mode, the standard biological micro magnifications of 4X, 10X, & 40XR combined with bottom LED illumination, allow users to view on slides specimens like protozoans, blood cells and other microscopic samples. When you're ready to head into the field, you'll find the M3-B's sturdy tripod legs perfectly suited to the task. And its rechargeable illumination system allows for up to 40 hours of use on an eight-hour charge. In macroscope mode, the 2X magnification macro setting with top illumination is perfect for viewing opaque objects such as rocks, plants and insects. The M3-B is built to last with all-metal internal parts and glass optics. It features a 0.65 Iris Condenser, with protective Iris Shield, plus DIN Standard Achromat Objective Lenses and energy efficient, bright white light that emits virtually no heat. The ergonomic carrying handle makes the M3-B easily transportable. It also comes packaged with several free accessories including a Super Slide Kit with prepared slides, extra blank slides, and cover slips.
FEATURES:
Three microscopes in one, may be used as a microscope, macroscope or in the field
The unique tripod base may be removed & replaced keeping the microscope sturdy even on rugged outdoor surfaces
Lends itself to a wide variety of field activities from gross dissection to cell identification
Re-chargable illumination allows up to 40 hours of use on a single 8 hour charge
Sturdy detachable tri-pod legs fold for easy storage
Multiple stage positions allow for micro and macro viewing Includes stage plate for viewing micro specimens and black/white contrast plate and clear collection container for viewing macro specimens
Extra bright LED lasts up to 50,000 hours between replacements for minimum maintenance and downtime
| | |
| --- | --- |
| Head | Siedentopf Binocular |
| Eyepiece | Wide Field 10X/18mm |
| Objectives | 4X, 10X, 40XR Micro, 2X Macro |
| Magnification Range | 20X-400X |
| Micro Adjustments | High magnification, small field of view |
| Macro Adjustments | Low magnification, large field of view |
| Nosepiece | Quadruple |
| Focusing | Coaxial coarse and fine focus system |
| Condenser | Built-In, N.A. 0.65 w/Iris |
| Illuminator | Top & bottom, white LED with variable intensity control. |
| Head Rotation | 360° |
| Head Angle | 30° |
| Stage | Adjustable, w/Gliding Stage Plate |
| Base | Detachable tripod legs |
| Battery Type | 4.5 Volt A/C external adapter included |
| Battery Life | 40hrs or 8hr single use |
| Dimensions | 12.5 x 7 x 15.5 inches |
| Shipping Weight | 12lbs |

Additional Product Information