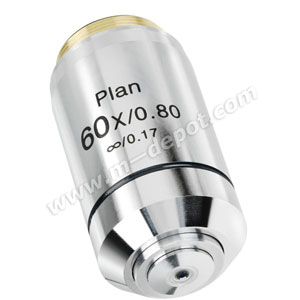 60xR Infinity Plan Achromatic Objective
M-Depot Item No: S-16262
Price: $379.95
60xR Infinity Plan Achromatic Objective
RMS Standard
---
go to product details
Similar Products
Objective Lens, 60xR Plan Achromat, N.A. 0.85 - 160mm - DIN Standard
Our Price: $309.95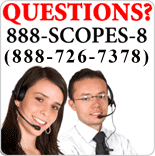 ---
Sales & Customer
Service Assistance:
Monday - Friday
8:00 AM - 5:00 PM PT 1-888-SCOPES-8
(1-888-726-7378)
Email Us
What do our Customers say about us?


60xR Infinity Plan Achromatic Objective
This is a brand new 60xR Infinity Plan Achromatic microscope objective lens. It fits RMS standard compound / biological microscopes and works with many models including, but not limited to: Olympus, Zeiss, Accu-Scope, Motic, Unitron, etc.
We have other objectives available
here
Note: Does not work with Nikon, Leica or other non-RMS standard microscopes.
| | |
| --- | --- |
| Objective | 60xR Infinity Plan Achromatic |
| N.A. | 0.8 |
| Working Distance | .14mm |
| Parfocal Distance | 45mm |
| Threads | RMS Standard (.8-Inch dia., 36TPI) |
| Focal Length | F=180 |